The local hosting feature allows you to host the fonts from your own server instead of Google's. As well as being GDPR-friendly, this can also have performance benefits.
Enabling local hosting is a simple 1-click process.
Navigate to Appearance → Customize → Google Fonts → Local Hosting.
Then simply toggle the switch to the on position.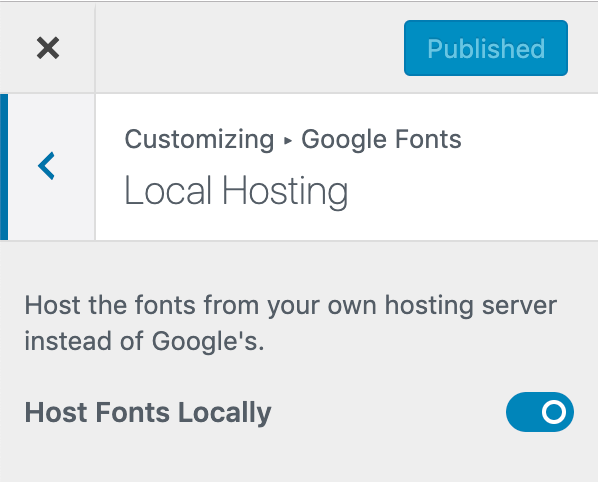 Press Publish and the plugin will do all the work in the background.
Font Files are cached on your server for 1 year and they are regenerated each time you change fonts. If you need to re-generate the font files manually that is also possible:
Navigate to https://yourwebsite.com/?action=fpp-reset-cache (replace yourwebsite.com with your own URL)
By default Fonts Plugin uses the WOFF file format as it has the highest compatibility across all browsers.
However, there is a more optimized file format that all modern browsers support, WOFF2. In our testing it reduces all font file sizes by at least 30%.
To enable WOFF2, toggle the switch:
You will then need to clear your font cache by navigating to https://yourwebsite.com/?action=fpp-reset-cache (replace yourwebsite.com with your own URL)